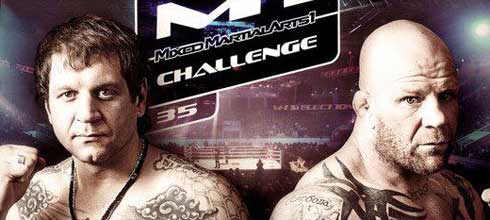 The main event fo M-1 Challenge 35 on Thursday, November 15, 2012 from St.-Petersburg, Russia is Alexander Emelianenko vs Jeff Monson.
The younger brother of Fedor Emelianenko is a three-time Russian national Combat Sambo champion and three-time world Combat Sambo champion. He has an overall record of 21-5-0 and comes from 4 wins in a row: a submission against Tolegen Akylbekov, two TKO with Tadas Rimkevicius and Ibragim Magomedov and by unanimous decision with Konstantin Gluhov)
Jeff Monson (age 41) is a 2 time winner of the ADCC Submission Wrestling World Championship, and a No Gi Brazilian Jiu Jitsu World Champion. In the last of his 60 fights (46-13-1), he won by a fast north-south choke against Denis Komkin..
In addition to this match, the fans will see four M-1 Challenge title fights, one M-1 Selection final and