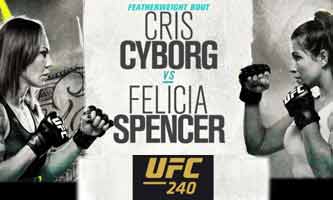 Review by

AllTheBestFights.com

:
2019-07-27, nice and tough exchanges between
Cris Cyborg Justino and Felicia Spencer
: it gets three stars.
The former Ufc women's Fw, Strikeforce and Invicta Fc champion Cristiane Cyborg Justino entered this fight with a mma record of 20-2-0 (85% ko/tko victory rate – she has never won via submission) and she is ranked as the No.1 women's featherweight in the world even if she lost the Ufc Fw belt in his last bout against Amanda Nunes, because Amanda comes back to the bantamweight division (Cris Cyborg Justino vs Amanda Nunes); before this fight, in March 2018, she had beat Yana Kunitskaya (Cris Cyborg Justino vs Yana Kunitskaya).
Her opponent, the undefeated black belt in tae-kwon-do and Bjj Felicia Spencer, has a perfect record of 7-0-0 (71% finishing rate) and she entered as the No.3 in the same weight class. In her last three bouts she has won over Helena Kolesnyk, Pam Sorenson and Megan Anderson. Cyborg vs Spencer is on the undercard of Max Holloway vs Frankie Edgar – UFC 240. Watch the video and rate this fight!